Make, move and manage your money better.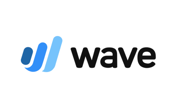 Accounting by Wave is a free, double-entry accounting tool designed for small business owners. Wave eliminates data-entry and puts the financial reports an SMB needs at their fingertips. Spend more time doing what they love — focusing on your business. Accessible anywhere, anytime, Wave facilitates unlimited collaborators for a streamlined and connected accounting tool.

Connect Wave to monitor finance functions such as payments, invoicing, and payroll and track key metrics through our spending and product tiles.

Wave powers the following tiles: