Centralize employee management with a view of leave requests.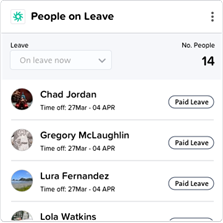 The People on leave tile helps to centralize employee management. Drawing on a business' connected HR software, it displays information such as who is currently on leave and who will be on leave in the next 30 days.

The tile also records the type of leave — whether paid, unpaid, sick — and the request status (pending or approved). You can access leave request details by clicking on any entry to see overlapping leave requests, as well as details including leave type, request status, and leave dates.

Connecting the People on leave tile provides a comprehensive overview of employee availability so that you can plan and deploy your people resources effectively.

Powered by: