See how your social posts resonate with your audience.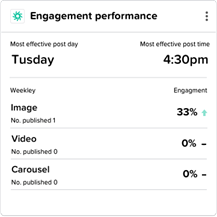 The Engagement performance tile provides an overview of social activities on Instagram, for example, which times are most effective to post. It also registers levels of engagement on the social platform, including a detailed view of engagement on post types.

Insights from this tile show you how well posts are performing, and what content and posts resonate with your audience. Get to know which types of media and posts gain the most engagement, for example images, videos, educational or fun.

Use this information to shape your social media strategy and create content that boosts and drives customer engagement.

Powered by: