Gain an overview of social activities and engagement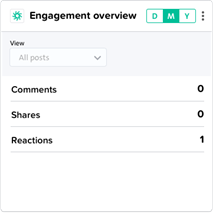 The Engagement overview tile provides an overview of social activities and registers levels of engagement on social platforms — including a detailed view of engagement on individual posts and wider social media activities.

Insights from this tile show you which posts are performing well, as well as those that are driving less engagement. Identify the content and posts that resonate with your audience.

Having an overview of customer engagement and which posts are popular, can help you to develop a social media strategy that boosts and drives positive customer engagement.

Powered by: