Get a snapshot of how your business is tracking financially.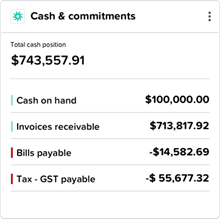 The Cash & commitments tile offers a snapshot of how a business is tracking financially. The tile helps you to identify and track cash balance (cash on hand) and money owed (invoices receivable), less money owed to creditors/suppliers (bills payable), including tax obligations.

This data can be used to evaluate whether your business can repay short-term debts with its short-term assets (convertible to cash) when they fall due. Evaluate if your business is able to accomplish long-term expansion and growth.

Benefit from valuable financial metrics; for example, the higher the 'total cash position,' the more eligible your business is for loans or short-term financing.
Powered by: