Monitor spending on your Visa Business cards.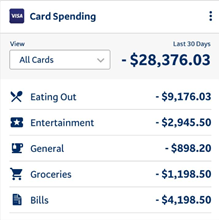 The Card spending tile tracks spending on Visa Business cards. It displays the total spent and segments spending by category, for example entertainment, bills, or general. You can view individual cards or all connected cards.

Adding the Card spending tile to the Tracker helps you to monitor spending alongside other key metrics, helping you to identify areas that may need financial management.

Powered by: