Gauge the success of your campaigns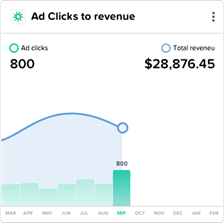 The Ad clicks to revenue tile provides an easy-to-read view of how your Google Ads campaigns are performing, detailing the revenue generated and the number of clicks the campaign has generated.  
 
You can select the Day or Month view, and simply hover over a specific period to see how successfully your online campaigns are performing. This is also an opportunity to compare campaign performance over time. 
This tile helps you to gauge the success of your campaigns, identify what's working well and the actions you can take to boost performance.

Powered by: